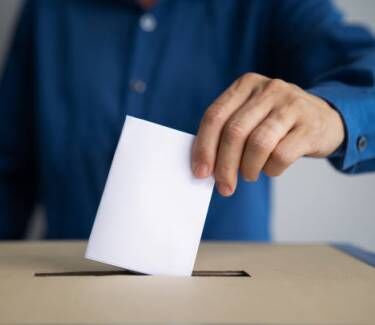 With 2022's midterm election races heating up, candidates and PACs should be reminded of the power of AM/FM radio in the ad-supported audio space. It's a point driven home in Westwood One's latest blog covering the medium's advantages vs. other ad-supported audio culled from Edison Research's "Share of Ear" study for first-quarter 2022.
The study, which surveyed 4,000 Americans to gauge daily reach and time spent for all forms of audio, shows that among registered voters, AM/FM's 75% share of ad-supported audio is far ahead of podcasts (12%) or ad-supported Pandora (6%), ad-supported SiriusXM (4%) or ad-supported Spotify (4%). Regardless of party affiliation, AM/FM maintains the same strength across the board. Westwood One's cut of the Edison data excludes listening to the ad-free versions of Pandora and Spotify, which make up the streamers' largest audiences.
Overall, the story has remained fairly consistent since pre-COVID Q1 2020, when AM/FM's share was 78% among persons 18+. Over that same time, AM/FM's share of ad-supported audio in the car grew from 87% to 89%.
Examining the duplication in audio platform listening in a typical day, Westwood's interpretation of Edison's findings also show most Americans only listen to AM/FM radio and never to ad-supported Pandora or Spotify. "A strong AM/FM radio campaign will deliver half of Spotify's audience at no cost due to duplicated audiences," Cumulus Media Chief Insights Officer Pierre Bouvard says.
Also notable is AM/FM radio's lead in ad-supported listening on smart speakers, with a 43% share over podcasts' 28%. "AM/FM radio stations have aggressively promoted how to listen to their audio stream via smart speaker," Bouvard says. "These strong promotion efforts have paid off."